Smoke - Justalilsumn | 2 Disc
04-09-2011, 03:55 AM

Post: #1
tosin
Admin - Tosin In This Mutha Fucka


Posts: 31,472
Joined: Feb 2009
Reputation: 10
Smoke - Justalilsumn | 2 Disc

CLICK COVER TO ORDER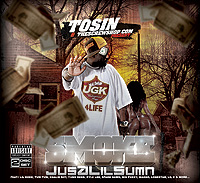 $10.00
Temple, TX's own Smoke from No Limit Sounds releases his new original music underground album with Tosin & TheScrewShop.com.
01. Intro
02. Middle Fanga 2 Da Law (Prod by Million Dollar Beats)
03. Pay'em No Mind feat. Chalie Boy, Gorilla Zoe (Prod by Asquare)
04. All Bout Money feat. Drex (Prod by Jimmi)
05. No Turnin' Back (Prod by Presidentz)
06. Mind On Money (RMX) feat. Yung Redd, Kyle Lee (Prod by Diversified Beats)
07. Interlude
08. Freestyle
09. Glass, Chrome, Bumpa Kit feat. Big Pokey, OG Avery (Prod by Big Nupe)
10. Activate My Hate feat. Lil C, Magno (Prod by Heavyweights)
11. Need'em To Feel Me feat. Filthy Filth, Lonestar(RIP)
12. Lessons (Prod by CyFyre)
13. Get It
14. Freestyle feat. Spark Dawg
15. Blockhead feat. Magno, J.G. Hustla (Prod by Jmoss)
16. Bad Influence feat. Filthy Filth
17. No Limit Sounds (Interlude)
18. Hussla feat. Lil Keke, Tum Tum
19. Nino Brown (Prod by Presidentz)
20. Freestyle feat. Blaque Pat
21. Free Weight
22. Outro
23. *BONUS* Break Down feat. Lil C, Brotha Henn, Trae Virdue (Prod by Diversified Beats)
BONUS DISC
01. Fly Shit (Prod by Mighty Joe Hitz)
02. Closet
03. Throwback
04. Unborn (Prod by Blaque Pat)
05. The Best feat. Yung Lean (Prod by Julianano)
06. Gutta Shit feat. D.Treez (Prod by Presidentz)
07. Mind On Money feat. Dough Boi (Prod by J.P.)

CLICK COVER TO ORDER
05-26-2011, 01:07 PM

Post: #2
tosin
Admin - Tosin In This Mutha Fucka


Posts: 31,472
Joined: Feb 2009
Reputation: 10
RE: NEW// Smoke - Justalilsumn | 2 Disc
now available...

User(s) browsing this thread: 1 Guest(s)